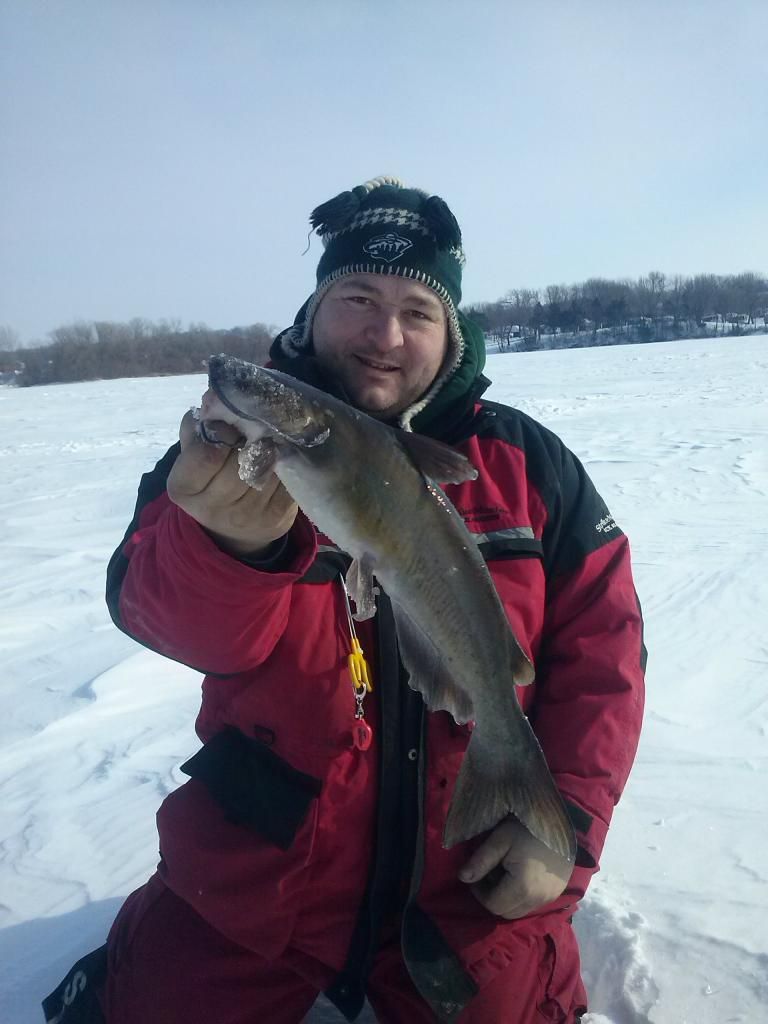 Catfish, long considered the fish of choice by guys in overalls and southern drawls, are beginning to develop a cult following across the Ice Belt. Though soft-biting, they are hard fighters and excellent table fare out of cold water. When it comes to targeting cats through the ice, the most popular place in Minnesota is the Horseshoe Chain of lakes in the central part of the state. Catfish were introduced to the Horseshoe Chain back in the late 1970s to help clear out the bullhead overpopulation. However, it was never imagined that they would take over the lakes. They have quickly become a favorite of many anglers, much to the chagrin of local cabin owners who see them as nothing more than a nuisance species.

The channel cats that inhabit the waters of the Horseshoe Chain are now a favorite of anglers far and wide who seek something different than the standard walleye and panfish they normally chase during the ice season. Many internet fishing forums have guys checking in from all across the Midwest to see how the ice is shaping up and how the bite is progressing; all anticipating that moment when the catfish go on their feeding binges and hoping it coincides with their time off work, often living vicariously through those who are currently chasing them.

One of the first things you should understand about channel cats is that they behave more like crappies than you would believe. They regularly are found in large nomadic schools that roam basin areas. While you will find some sitting off of the breaklines, generally, they will be out in no-man's land just swimming around. Large flashy baits can catch a few out of a school, but more often it is a livebait presentation such as minnow under a well-trimmed ice buster bobber that will produce for anglers that have found a large school of fish. Some favorites among seasoned cat anglers are baits such as a Lindy Frostee tipped with a fathead for a bobber rod once you have found the fish, and a flashy, noisy bait like a RattlN Flyer spoon tipped with a minnow head or waxies for tracking down the roving schools.

Catfish are notoriously light biting fish in the winter, so spring bobbers and noodle rods are standard equipment for experienced cat anglers. One cat-head I know has even taken it to the point that he has Ice Busters that are specifically trimmed for certain jigs. Even a small hop out of the ordinary with your bobber is a reason to set the hook. While the equipment is very much the same, the fight is nothing like you would experience with panfish. Panfish anglers are used to hooking into small to medium sized fish that bump their spring bobbers ever so gently, but when you set the hook into a drag-screaming catfish that can top 10 lbs on occasion, it will be you that is hooked.

It isn't very often that a fisherman gets to experience consistent rod-bending, drag-screaming fun on panfish tackle, but when you manage to find one of the aptly named "catfish tornadoes" you will quickly become a convert. They are not only a riot to catch, but they are amazing eating as well. I have made everything from fish tacos to fish cakes with the flaky meat from cold-water catfish and no matter how I cook it up it is a hit with everyone who tries them. The latest survey of the lakes in the Horseshoe Chain (2011) showed the highest catfish population in their brief history, so what are you waiting for? Come join the Cult of Cat Ice Anglers, we are few, we are a little bit strange, but I can almost guarantee that walleyes will be boring after catching 30 catfish through the ice on light tackle.