While even I am known to go a little stir crazy at the end of the winter, this has been the ultimate winter from hell. My cabin fever came to a head last week when another giant snow storm combined with high winds and super cold temps hit Minnesota again. While most of the plowed roads blew shut, there were still a few that were passable with 4WD and a shovel. I definitely had to use my shovel more than once on the way out, but the worst was yet to come.
I fired up my auger and let her warm up while I pulled some rods and my Marcum out of my truck. Went back to my auger (her name is Samantha), and started drilling, and drilling, and drilling. As my knuckles got closer and closer to the ice, I began to get a little worried. I don't own an extension, have never really had a need for one. When my hands hit snow and I still wasn't through the ice, I knew it was time to get off the ice for a week or two, or at least until I could find an extension for my auger.
After heading home, tail tucked firmly between my legs, I began searching for an extension. Called all of the local outdoor stores, no one had any in stock and had no clue when they would be getting any. So I began to search online and was shocked to see how expensive a 6-12" piece of steel was selling for. The cheapest I found was $40 plus shipping, and there were some for as much as $60+.
That is the exact moment my hatred of this winter hit. I am sure it is fleeting, it will probably fade when some of the snow melts off the lake and the waterways are fit for travel again. However, until then, I have begun my open water prep. This includes an assortment of things, most of which just provide me a way to think aboot fishing without actually being on the water. The first step is always to pull all the boxes out of my tackle bag and try to put them into some semblance of order. For someone who never truly know what fish I will chase from hour to hour, it can be difficult to sort out my panfish tackle from my trout/bass/or walleye tackle (Heck, if the crappies aren't biting, I may want to start pitching a soft plastic into the weed edges for some bass). So my organizational efforts often only result in me knowing what bait is mixed with others. "Oh, you need a new tube for bluegills? Pull out the box with the musky bucktails, there should be a few in there."
My next step in getting ready is to begin tying up some hair jigs. While a small stickbait or 'peanut' crank is my go-to for finding panfish after ice out, once I find them it is all aboot popping a hair jig under a foam float. There is nothing more satisfying to me than watching the little wiggle a bobber gives right before it slides under the surface. I generally tie up a lot of different body styles, not because I feel one may outperform another, but because I just enjoy tying jigs and like to see what different jigs will look like with hair added.
One thing I like to do every off season is to build myself a new rod. As a custom rod builder, most of the rods I build for myself are experiments in trying a new style. Last year's rod was a skeleton bass pitching rod, the year before that was an acid wrap crankbait rod. This year I decided I wanted a new panfish rod. As a fan of the long rod, I went with a 9 foot 4 piece fly rod blank in a 4 weight. I am planning on trying out micro guides on a spinning rod this go around, but am still doing a lot of research on the idea.
Well anyways, hope you are enduring this winter a little better than I am so far. Hopefully we get some warmth in the forecast to knock the snow down and take a little ice off soon or I may start researching how to make my own fishing line out of horse tail hair. Ugh, just looked at the weather, it is currently -14, I wonder how hard it would be to make my own birch bark canoe…?
An assortment of Fat Boys with hair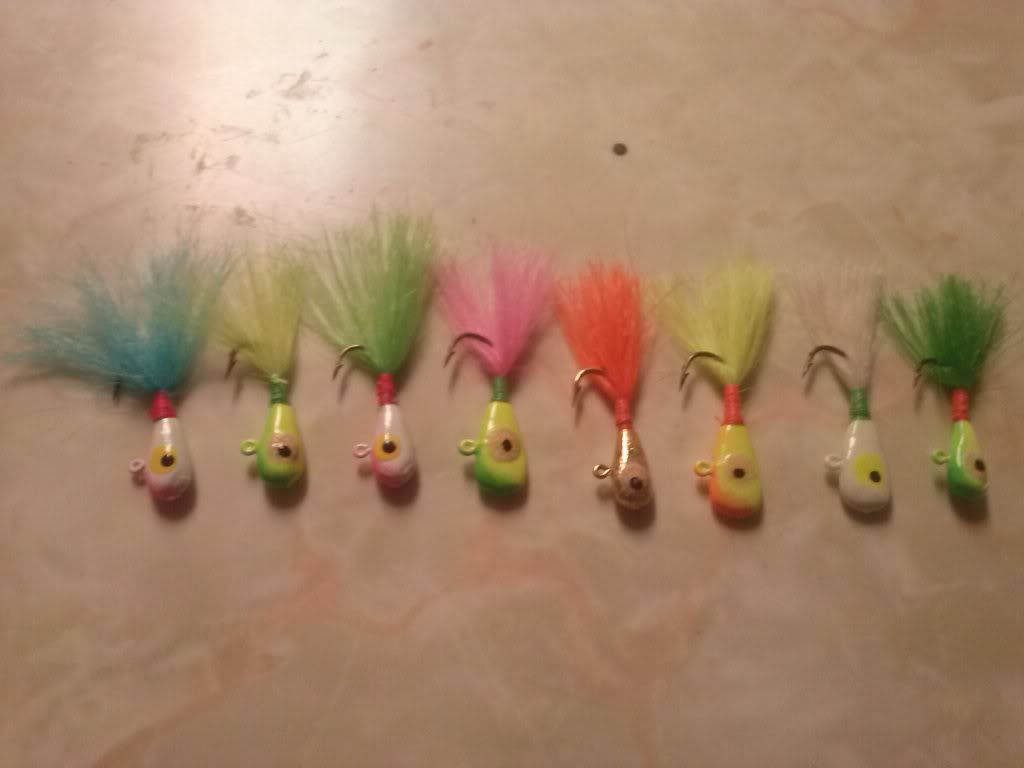 The beginning of the "Black Cherry" panfish rod